Hey everyone, I have been wanting to reward our top voters for awhile now, things have finally calmed down and are working for once lol.
I will reward the top 3 voters each month, rewards will be given out on the 1st of each month when you are online.
1st place will get 3 Master keys.
2nd place will get 1 Master key
3rd place will get 3 Poke keys
(rewards are subject to change)
Below is the ranking so far this month. Keep on voting!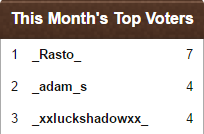 Attention trainers! We've updated our server to the most recent Pixelmon version. There's quite a few bug fixes and tweaks, including spawn points for Gen6 starters and Greninja breeding!!! You won't wanna miss out on this, so update! Pixpack has been updated as well, of course, so look for us in your Pixelmon launcher
Well, due to the increase of popularity with Factions, we have decided to bring it back. This time, a bit different than I have ever done it before.

This time, it will be hardcore pvp, that means, TnT, raiding, griefing, the whole 9 yards!

The server is almost setup I would say give us a few more days and it will pretty much be good to go!

It will be vanilla minecraft you can login with 1.7-1.11, I would suggest logging in with 1.10 or 1.11
Hey Everyone!
Firstly, on behalf of all the staff at Evolvecraft, I'd like to wish you all a very Merry Christmas and happy holidays!
To celebrate Christmas, there is a 50% off sale across everything in the store, until the 5th of January 2017!
I hope you're all having a great time.
- Cauliflowers
We have updated to the latest version of Pixelmon which was just released. It is the official 5.0.0, no more beta!
Make sure you have your pixpacks updated!
All the new legends have been added to the shop, including if you buy a rank and get to choose a legend of your choice. Enjoy.
Hope everyone has a wonderful holiday
To add:
Gyms will be getting reworked a little due to the new addition of Fairy Type.
Until then the NPC Gyms will be offline until the fixes can be implemented.
What will change (for now until the official gym change post is released is that, gyms like Dragon, Normal, Fighting, will be getting changed for their teams. The Fairy gym will be added, and more to come but for now that is all)
And also plans for the Elite 4 will be added
Anymore additional questions about the gym changes, message Th3Critic on discord.